Send help to families affected by the earthquake.
Our team and local partners are helping provide shelter and relief supplies to families who have been displaced.

Please join us by giving to our emergency relief fund.
Donate Now
Note: You'll be redirected to Stewardship's website where your donation to Partners Relief & Development will be securely processed.
It's the worst natural disaster to strike Turkey and Syria in modern history.
Tens of thousands have been killed. Millions need humanitarian assistance.
Syria had already endured over a decade of war-inflicted suffering. Then, in the freezing early hours of Monday February 6th, the largest earthquake to strike the region since 1939 devastated cities across southern Turkey into Syria's war-torn north. The damage our team has witnessed is catastrophic. The death toll; over 50,000 people.
Our team and local partners launched an immediate response, evacuating civilians and injured people, providing critical medical assistance and supplying refugee centers that are hosting families who have been displaced by the earthquake.
This is our lane: providing rapid emergency relief for communities that are impacted by conflict. Please go with us by making a donation that fuels our team on the ground to support families who've already endured so much.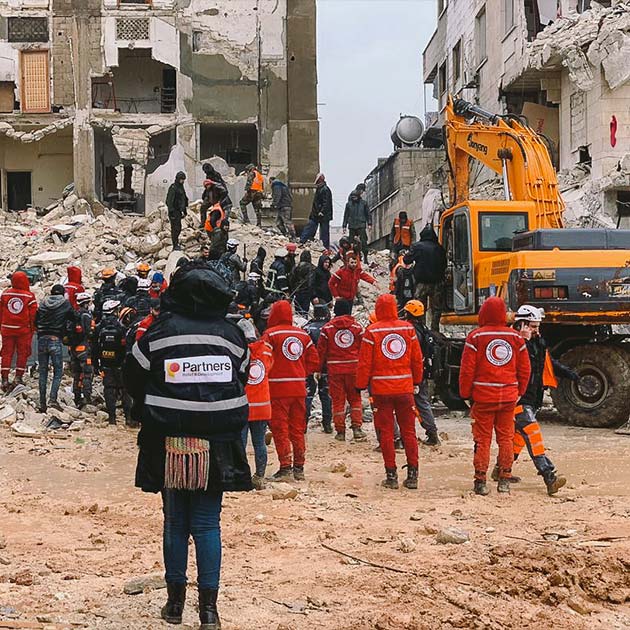 Ready to make an impact?
Here's what your donation can do.
£19 provides warm bedding for a displaced person seeking refuge at an evacuation centre.
Donate Now
£45 provides a family with a food parcel full of staples like chickpeas, lentils and beans
Donate Now
£84 supports the ambulance and mobile hospital providing critical medical treatment.
Donate Now
*These are representative of the type of relief we are delivering, which may vary due to the specific needs of a particular community we're responding in.
Please join us.
Millions of people are desperately in need of urgent support.
Let's respond with the same love in action that we would want if it was our children trapped in a building and our families searching for a place of refuge. Thank you for standing with them.
Donate Now